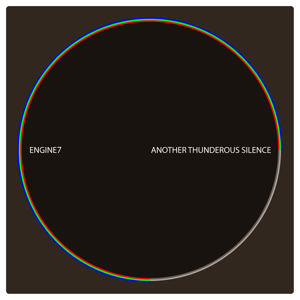 £

1.99
Upon purchase you will be sent a download link to the email address you have registered with Paypal. The album will be encoded at 320kbps in mp3 format and include high resolution artwork.
Engine7's Me, But Perfect was one of the unsung gems of 2008, an album that managed to combine lush chill-out music with more edgy and experimental electronica and a dash of shoegazey guitars for good measure. Another Thunderous Silence appears some twelve months later with remixes of two of the album tracks and a couple of new tunes.
This is twenty minutes of beatless music that conjours up blue skies, blazing sun, white sand and turquoise sea. The opening track has a lengthy fade in of piano arpeggios before opening out into a broad lush panorama of the kind that Moby used to be good at. The Glossolalia remix of "Me, But Perfect" ditches the cracked beats of the original in favour of a balearic chill-out anthem, laden with overdubbed and filtered vocal chorus. The final two tracks are drone-heavy. "Bell Deconstruction" is a rich soup of backward loops (possibly ringtones mashed up unrecognisably), that has subtle shifts in texture in a barely-altering structure. "Sunrise Catalonia" in its new form is also based on a sustained, unwavering synth chord, with bleeps and mixed voices making it sound like the Animal Collective go Ibiza.
Not as eclectic, then, as last year's album, but Another Thunderous Silence is constructed as a very specific mood suite. It's ambient chill-out with an edge to it. As a companion to the album, it works just fine. Hopefully, though, the next release will have a bit more contrast in mood and sound. Sic Magazine